Date / Time: Wednesday, April 28th, 2021 at 3:30 pm PDT - 5:30 pm PDT (add to calendar)
Event type: Event held online
Price: $10-$35
Register / View: Hop College – Style Analysis: Spring Beers

Join us as we break down the flavors and history of the beers we brew and love. This month's topic: Spring Beers!
About this Event
The taps are on, the beer is pouring, and class is back in session – virtually! Expand your beer knowledge from the comfort of your home at Hop College: Style Analysis. This month's focus? Spring Beers! Join Certified Cicerone® Great Lakes Brewing Co. staff as we crack open the history of springtime staples, and taste these most refreshing styles of beer!
Students who enroll in Hop College: Style Analysis will head to the virtual "classroom" where Certified Cicerone®️ Great Lakes Brewing Co. staff will help you tap into a deeper understanding of various springtime styles with a guided tasting complete with sensory analysis, a rundown of the history of the style, the stories behind GLBC's versions, and more during this crash course on all things hops! There won't be any textbooks, but we will have plenty of beer to help enhance your learning. We will be tasting:
Crushworthy Lo-Cal Citrus Wheat
Mexican Lager with Lime
Rally Drum Premium Lager
Dortmunder Gold Lager
Each General Admission ticket will include one can of each beer, so feel free to have a study buddy join you! Students who enroll will receive a special Hop College branded tulip glass (pictured below.) Feel like adding on some extracurriculars? We have plenty of other beer to-go available at the Gift Shop – and the Brewpub has reopened with limited hours for any of your to-go food or crowler needs! Please check greatlakesbrewing.com for current Brewpub hours.
Add-on tickets are also available for an exclusive Hop College notebook and GLBC pen (pictured below the tulip glass.)
Graduate at the bottom of your glass at Hop College, where our virtual taproom is your classroom!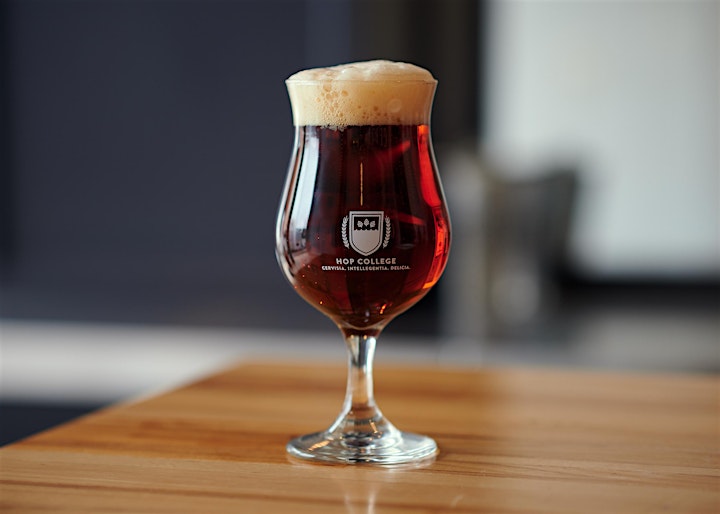 The Fine Print
Details are subject to change without notice. Payment is non-refundable, and event date is non-transferable. Please book your date and time carefully, as refunds will not be awarded.
Virtual Hop College will be held via Zoom. The link for the class session will be sent shortly before the start of class via email. Students will be responsible for downloading the Zoom app ahead of time. Having trouble with downloading Zoom? Let us know by emailing us at GLBCinfo@greatlakesbrewing.com.
Study beer for General Admission tickets and Hop College Notebook Add-Ons will be available for pick up at the GLBC Gift Shop prior to the start of class. Beer may be picked up beginning 12PM on Friday, April 23th and until 5PM on Wednesday, April 28th. You MUST be 21 or older with a valid ID to consume, purchase, or pick up alcohol. No ID. No alcohol. No exceptions!
Ticket options are also available for access to class only. The "Class Access Only" ticket option does not include study beers or glassware.
Questions? Contact us at 216.771.4404 or GLBCinfo@greatlakesbrewing.com.
Categories: Front of HouseQuality Control