Why choose us DGET
Comprehensive after-sales service
Online 24/7
Provide you with quotations, drawings, layouts, etc.,
If you need to install, we are also happy to send engineers to install it for you.
After sales tracking, get feedback.
The purpose of DEGONG is to satisfy customers' customized needs with better quality and better service. Based on this, we have also received recognition and positive feedback from customers from all over the world.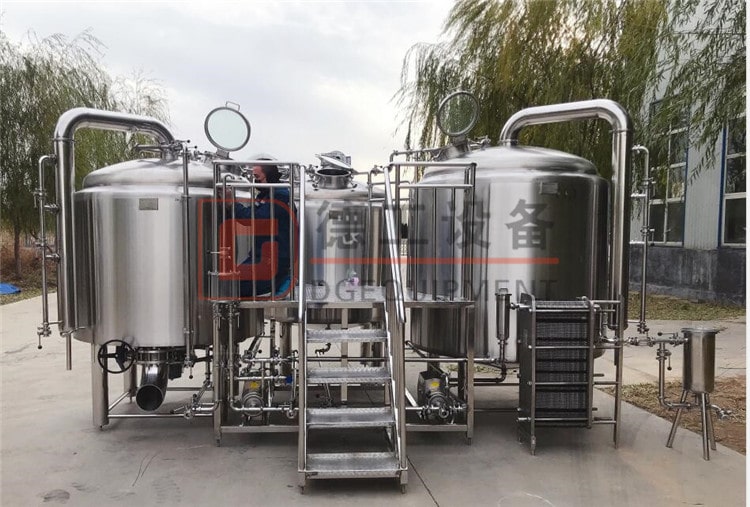 Brewery Equipment available for small, medium and large
Brewery equipment–BREWHOUSE
1- Mash / Lauter Tun
Used to combine grist and hot water. A false bottom is then used to extract the clear wort from the malted barley. The spent grains left over can be used for animal feed.
2-Brew kettle / Whirlpool
The wort is boiled to a desired specific gravity and hops are added for flavor and bitterness. After boiling the wort is whirlpooled to collect soluble proteins in the center of the kettle. The clear wort is then pumped through the heat exchanger and into the fermenter.
3-Hot Liquor Tank(We recommend using a hot water tank of the same volume or twice)
Used to recover energy and heat the water (liquor) needed for recirculation and sparging water onto the grain bed to convert starches to sugar.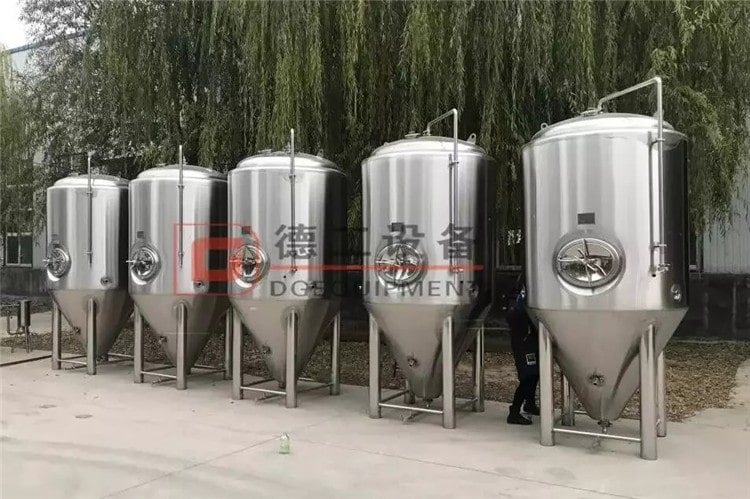 2000L fermentation tanks display
Brewery equipment–BEER FEREMTNATION TANK
Fermentation tank Features:(CCT/UNI-TANK/FERMENTER/)
All connections are fully welded Tri Clamp fittings
0.12 -0.15Mpa operating pressure; 0.3Mpa design pressure
Pressure gauge
Versitile port for dry hopping, CIP, and the pressure relief valve
Sampling valve
Thermowell for thermometer
Carbanation stone
Blow off cane,ball valve
Polyurethane insulation jacket 100mm
Custom ss butterfly valves with racking arm
Stainless lower shelf
Adjustable feet
Made from 304 stainless steel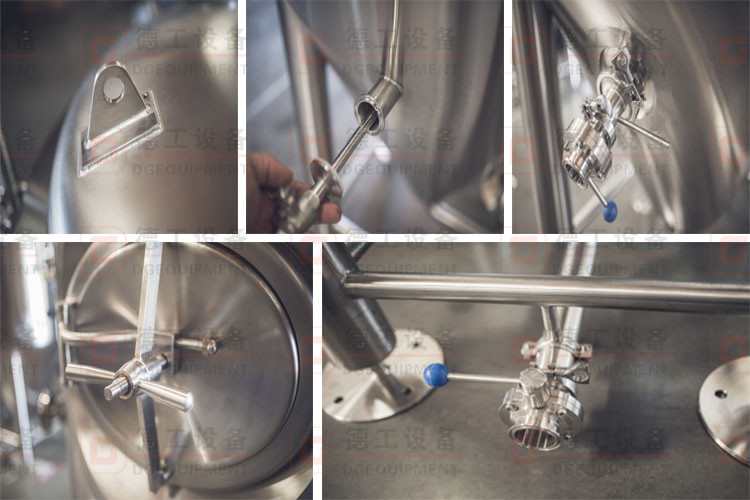 Racking arm;side manhole;drain outlet etc.
Contact us
If you are interested in the brewery or want to learn more, please contact me, Alice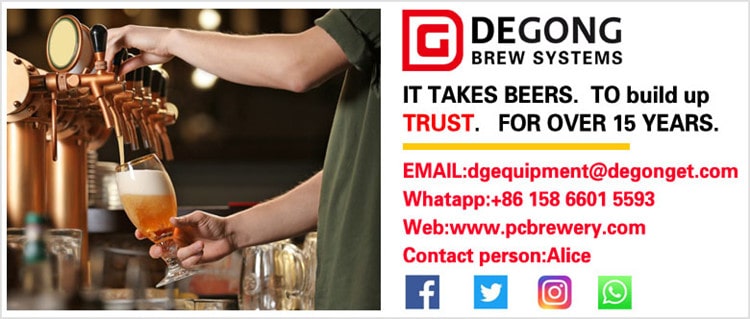 Manufacturer

:

DEGONG EQUIPMENT TECHNOLOGY CO.,LTD

Where Manufactured

:

China

Ships From

:

QINGDAO

Part Number(s)

:

843840000