Regulatory issues that might have forced the 2006 Craft Brewers Conference and World Beer Cup judging out of Seattle appear to be cleared up.
The Cup's organizers were faced with the threat that the Washington State Liquor Control Board would require out-of-state brewers to pay a $200 state fee for every label entered into the competition. The fee could cause many of the smaller brewers among the 400 anticipated contest entrants to balk at entering. As a result, the Brewers Association, the trade association that organizes the event, said a resolution would have to come by Oct. 1 or the Cup judging would be moved elsewhere, possibly to Portland.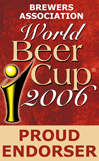 After weeks of negotiations, the liquor board released a proposal addressing brewers' major concerns. Pyramid Breweries Inc. Chairman George Hancock said he believed the competition would go on as planned.
"I think the board has found an ingenious solution," said Hancock, who is president of the Washington Brewers Guild, a trade association involved in the negotiations.
Instead of seeking a fee for each beer, state liquor officials asked organizers to pay a one-time, $10 fee to cover the permit for the event, treating it more a like banquet than a festival. The proposal still requires formal approval by the Liquor Control Board.
The biennial Cup is held alongside the Craft Brewers Conference, a conference and trade show that attracts about 1,500 attendees from around the world. Seattle's Convention and Visitors Bureau estimates the event would generate $3.45 million for local businesses.
The World Cup competition, said Charlie Papazian, president of the Brewers Association, "is the Olympics of beer." At the competition, beer is judged in 81 different categories, ranging from American-style amber lager to coffee-flavored beer. The 2004 competition featured 1,566 different beers, representing 393 breweries from 40 different countries. Winners in each category carry away gold, silver and bronze awards.